Webinar Production Services
Create live video presentations that enrich your audience.

"Thank you again for your assistance in getting both my live stream and recorded materials available to my customers. They LOVED the event and it was a huge success for my business."
– Kim C., President/Owner at Audiology Resources, Inc.
Mainstream Media offers end-to-end webinar production services that help you enrich your digital audience. As your creative technology partner, we work hand-in-hand to produce your content, securely distribute it online, and analyze the data. Call today for a free quote!
Webinar Services
Your virtual audience wants to engage with your event, and you want them to have an amazing experience. We help you craft real-time digital experiences that excite, enrich, and activate your audience – no matter where they are, what device they use, or how fast their Internet connection is.
Professional Webinars that Work For Your Business
We know what makes a webinar work. Our team of expert producers will work with you every step of the way to ensure a flawless production. This includes overseeing site surveys, recommending the platform that's right for you, and even creating branded graphics packages.
Broadcast-Quality Productions
We pride ourselves in doing great work for good people. Our productions incorporate multiple camera angles, live engagement tools, social media activity, and real-time presentation integration – adding up to a seamless digital experience for your audience.
Interactive Webcast Platform
Mainstream Media's proprietary webinar platform provides a stable and responsive medium for securing your real-time and on-demand presentations and capturing granular data about your users. Best of all, it embeds directly into your site – so your audience stays focused on you and your content.
Onsite and Remote Event Support
With our onsite technicians, you never have to worry about the quality of your stream. We oversee the entire production process, including venue and vendor coordination. In addition, our team of remote support specialists can provide immediate, professional, and friendly assistance to your audience so they can enjoy the event without technical difficulties.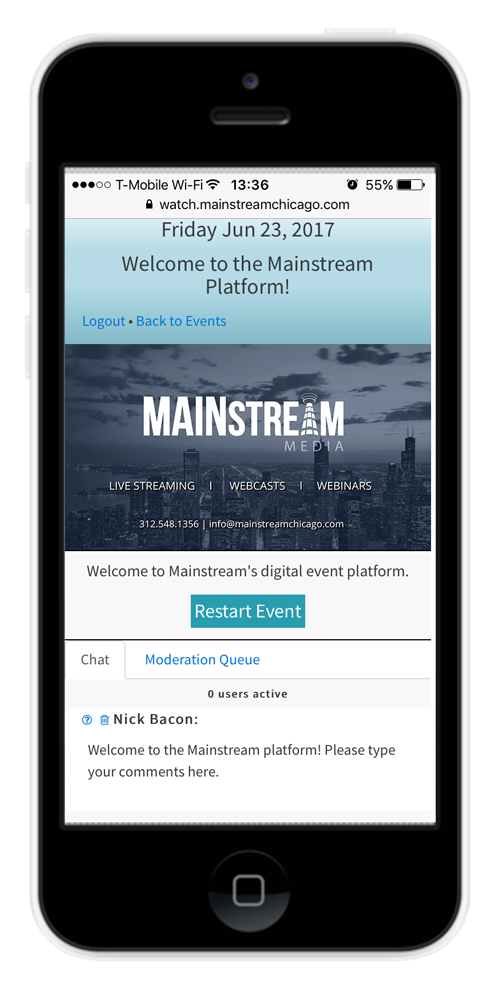 Features
Some of the many reasons to trust us with your webinar production needs
Full HD Audio and Video
Broadcast-Quality Production Services
Encoding to the Platform of Your Choice
Real-time Chat, Messaging, and Polls
Integrated PowerPoint Presentations
Content Archival
Compatibility on All Devices
Custom Branding and Design
Password Protection, Paywalls, and Security Features
If your organization is putting on an event this year, it needs to be online. Your local audience will appreciate the opportunity to catch breakout sessions that they were unable to fit into their schedule. Your digital audience will love the ability to interact with your event's keynote speakers. And your sponsors will welcome the additional promotional opportunities! Give us a call at (312)548-1356 today to get started – or fill out the form and we'll reach out to you right away!