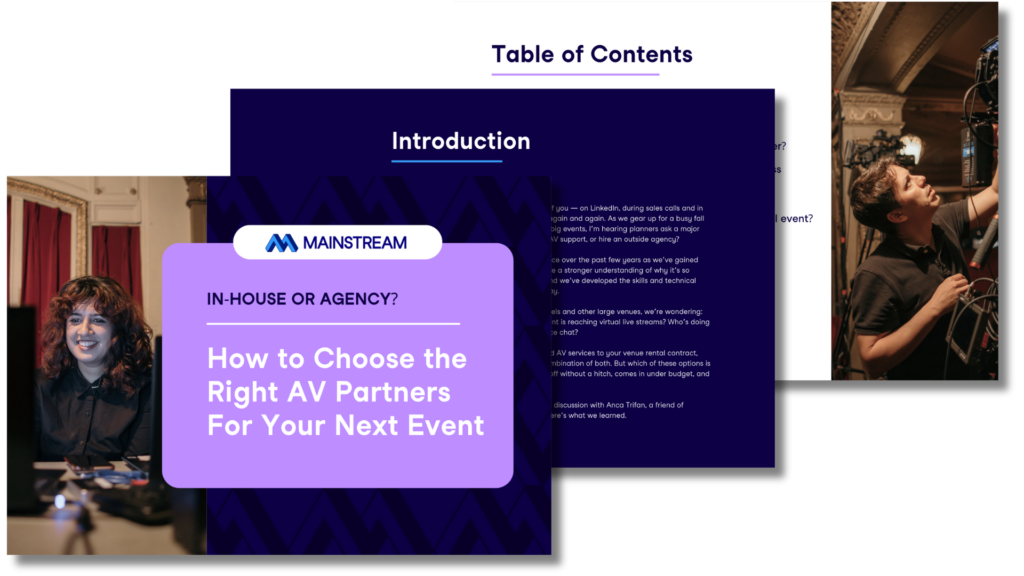 As we gear up for a busy fall season of conferences, trade shows, and other big events, event planners are asking one major question: should we stick with venue-provided AV support, or hire an outside agency? 
It's a conundrum that's only grown in significance over the past few years as we've gained experience in virtual and hybrid events. We have a stronger understanding of why it's so important to engage remote audiences now, and we've developed the skills and technical knowledge to reach those folks in a stronger way. 
But as we head back to in-person events at hotels and other large venues, we're wondering: who's responsible for making sure on-site content is reaching virtual live streams? Who's doing the camera work? Who's managing the audience chat?
In most scenarios, you'll have three options: add AV services to your venue rental contract, bring in your own AV agency team, or use a combination of both. But which of these options is the right choice to make sure your event goes off without a hitch, comes in under budget, and leaves audiences wanting more? 
Inside, you'll find:
Expert opinions on which type of event production support is better: in-house or agency?
Fresh insights from a recent LinkedIn Live with event producer Anca Trifan
8 actionable tips for how agencies and in-house AV teams can work well together