Is there any feeling quite like stepping onto a trade show floor as a multi-day conference begins? The fluorescent lights, the flashy booths, the industry professionals cheerfully waiting to greet you…ahhhh. Especially after being home for three years, our 2023 Event Trends Report revealed that event pros are jumping at the bit to host in-person conferences and events again.
And as valid as that desire is, we've also learned in the last few years that including a virtual component in any conference isn't just a nice-to-have—it's mandatory. Offering a compelling experience for attendees at home expands your audience, improves accessibility, and is more inclusive to folks who couldn't travel due to family or financial obligations.
But simply live-streaming your conference isn't enough. The virtual experience should be just as exciting and engaging as in-person, and your team should spend about half of event planning time focused on building a powerful digital platform.  
Let's dive into how to host a virtual conference from start to finish. 
How is a virtual conference different from other virtual events?
Before we jump into the step-by-step, it's important to note that hosting a virtual conference is a lot different than other virtual events. Here are a few basics to keep in mind before you start planning:
Conferences are longer than other virtual events. While a virtual event could be as short as 30 minutes to an hour, conferences can be anywhere from a full day to a week long. For your team, that means a higher budget, greater administrative burden, more staffing needs, and a lot more programming. But the payoff is huge: attendees walk away with a much deeper connection to your brand, greater knowledge about your industry, and a broader network. 
The risk of audience fatigue is higher. A conference involves long days, multiple sessions, and lots of moving parts. That means it's a lot harder to keep your audience tuned in and energized. Especially with a virtual conference, attendees are more susceptible to checking their phone, half-listening, or taking a break in the middle of the conference. So you'll need to be very intentional about baking in moments of virtual audience engagement throughout (more on that later). 
You'll need to repeat your brand messaging often. Your conference schedule may involve several different types of sessions, and virtual attendees may choose to tune in and out depending on how relevant each session is to them. That means your entire audience may not be in the same place at the same time. So be sure to repeat your most important brand messages often throughout your conference. Remind your audience who you are, why you're here, and what you want them to take away from your event. 
Conferences offer greater revenue-driving opportunities. Because conferences offer a greater educational and networking value than a shorter event would, brands can name a higher ticket price. But as inflation and budget cuts arise, be sure to find a good balance. An uber-expensive ticket could deter attendees from joining, especially if you're only offering a virtual experience. 
One way to increase conference revenue without placing a burden on your attendees? Think about corporate sponsorships. Offer advertising opportunities before, during, and after your event—through mentions in your marketing materials, sponsored speaking slots, and more.


How to host a virtual conference
1. Define goals and align with KPIs
First things first: start by outlining your goals and budget. What are you hoping to accomplish with your conference, and what metrics will you measure to define your success? Are you hoping to meet new customers or strengthen current relationships? Are you more concerned with driving high-level awareness, or increasing revenue for the year? Is there a certain action you want attendees to take, like making a donation or signing up for a demo of your product? 
Once you have an idea of goals, assign the KPIs (key performance indicators) to match. Here are some of the most popular event metrics right now, according to our 2023 Event Trends Report:
Ticket sales

Subscription and renewals

Repeat visitors to site

Dwell time on site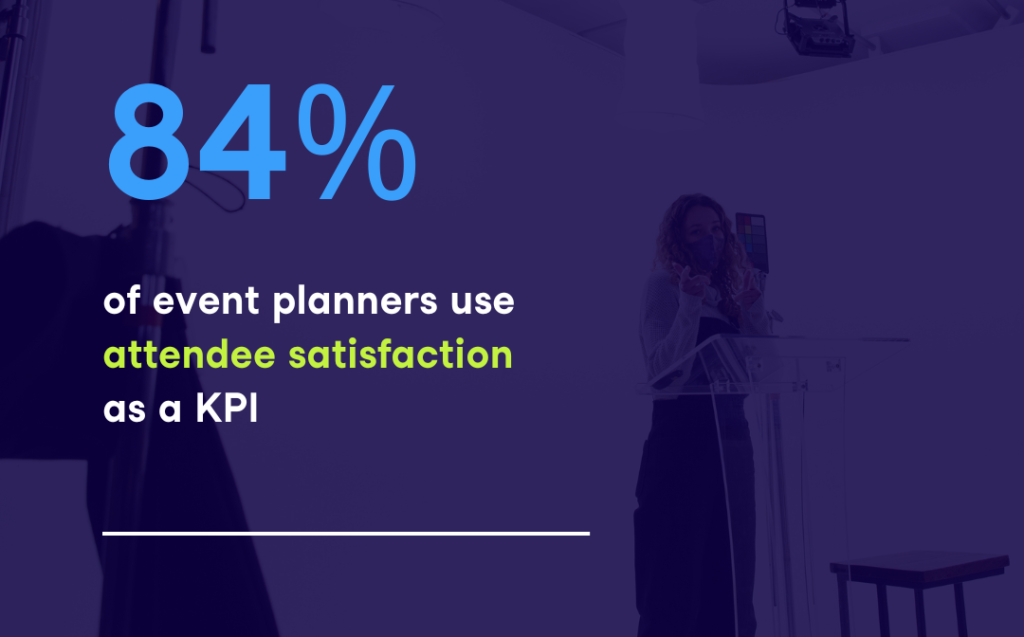 2. Align on brand & messaging
What are the key messages you'd like to communicate during your conference? What will be the general tone? How will your conference look visually?
Aligning on a cohesive brand is one of the most crucial steps in ensuring a successful event. It communicates who you are, how you want attendees to feel, and forges a strong connection between you and your target audience. 
And with a virtual conference, there's a huge opportunity to have fun when it comes to your brand voice and visuals. From your email invites to your streaming platform to your speakers' Zoom backgrounds, think about how you can weave in attention-grabbing and unexpected branded moments. 
Learn more about how to build a strong visual brand at your next conference.
3. Build a creative conference schedule
Now that you know what messages you'd like to communicate, let's build out your conference schedule.
Variation is the name of the game here, especially when it comes to a virtual conference. Don't give your attendees an opportunity to get bored! Mix it up with different types of sessions, from keynotes and breakout discussions to virtual networking opportunities and bathroom breaks. 
Be sure to book a diverse set of speakers, as well. Not only should they help you effectively communicate your brand messages, but they should also offer a good mix of content: from motivational speakers to celebrities to industry experts to customers who can share real-life stories about how your brand has impacted them. 
4. Bake in moments of fun
Why so serious? A virtual conference should be just as fun as an in-person experience, and a few "surprise and delight" moments will make your event memorable for years to come. 
Think about how you can take your conference to the next level, with unexpected ideas that will leave attendees wanting more. Maybe it's sending attendees a small on-theme gift before the conference starts, or perhaps you hire a DJ to spin a few tunes in between sessions. Or if you're looking to go big, follow in the footsteps of the SBC Digital Summit and offer a fully immersive virtual reality experience:
Need a bit of inspiration to surprise and delight your virtual conference attendees?
5. Set up your technology
At a virtual conference, technology isn't just an afterthought—it's the whole shebang. So spend a good portion of your planning time thinking about how you'll provide a seamless digital experience for your audience. 
Pick a platform. 
For a fully immersive experience, consider licensing a virtual events platform like Hubilo, Hopin or cvent. While costly, these all-in-one platforms support virtual networking, Customer Relationship Management (CRM) integration, and built-in interactions that drive engagement through the roof. 
Other platforms like Zoom or Vimeo offer a bit more privacy if you're looking to make your event feel exclusive, or if you'd prefer to pre-record all of your content beforehand. Here, attendees might be able to interact with each other in the chat, or click on links for more information about your brand. These platforms also offer accessibility features like closed captioning or alternative languages, making your event more approachable to more people. 
Choose a live-streaming partner. 
Learning how to run a new technology platform can be a huge burden for your team, especially if you've never hosted a virtual conference before. So consider investing in a live-streaming partner like Mainstream. From start to finish, our seasoned event professionals will help you produce a seamless conference that engages a global audience.
Give attendees an opportunity to engage remotely.
Nothing is more snooze-worthy than a multi-day event where you're being talked at the entire time. At a virtual conference, your attendees should participate just as much as your speakers. Think about how you can encourage participation virtually with features like live chat, Q&A sessions, polls, virtual networking platforms and more.
Here's a great resource with more ideas for encouraging audience engagement virtually. 
Don't forget social media. 
While you likely won't want to offer up your entire conference free of charge via social media, it's still a powerful engagement tool throughout your event. 
Think about offering sneak peek photos or video clips, or live-streaming a limited number of sessions. Facebook, Instagram, Youtube and LinkedIn all offer live streaming options, giving audiences the ability to react and comment on the content they're viewing. 
6. Do a dry run
Don't go in blind! A dry run is perhaps the most important step in preparing for your virtual conference. 
With a packed conference schedule, a large staff and a huge list of speakers, it's crucial to make sure everyone understands their roles and responsibilities for the day, what time they're expected to show up, and how to use your technology. As a first step, send out a documented run of show to both your internal team and external speakers, outlining key dates, times and instructions for how to join. 
The Mainstream team always recommends scheduling a tech check call with speakers before the event (or pre-recording). This ensures they are comfortable with the recording software, have adequate internet speeds and proper lighting. It will also give you a chance to control the background of the speaker to avoid distracting images or bad patterns.
"Honestly, the hardest part about planning a virtual event is scheduling your speakers, internal stakeholders and your production team for all the calls that it takes to pull the event together.

Our goal was to have 3 calls with each speaker: first the kick-off call to introduce the event and discuss a topic, next a dry run to walk through the entire presentation and make content suggestions, and then the final session call as if they were presenting live."

— Shannon Pierce

Events Marketing Manager, Smashfly Technologies
7. Ready, set, conference! 
It's go time! You've produced some exciting content with world-renowned subject matter experts, and now it's time to press "Start" on your conference. 
Throughout your event, be sure to monitor how things are going in real time. Are event attendees participating in the chat and Q&A? Is your brand receiving mentions on social media? Are speakers confident and comfortable before their session begins? Are your team members drinking water? (No, really — we add "Remind people to drink water" to our event production schedules. It's important!)
As often as you can, take notes about what's going well and what audience questions went unanswered so that you can follow up on them after the conference is over. 
8. Do a post-conference retro
Don't forget to look in the rearview mirror! Once your conference is over, gather your team to celebrate wins and review what could improve for next time. 
To guide your discussion, collect data by sending out a survey to your internal team, speakers, and audience members. Find out what sessions and topics were most popular, which speakers resonated most, and how easy it was for audiences to access your digital platforms. 
Review the event metrics and goals you set at the beginning of your planning process, and make note of how you did. Did you blow your KPIs out of the water? Great! Maybe it's time to set higher goals for next year. Did you come in lower than expected? Talk through ideas for how to boost numbers at your next conference.
Need help producing your virtual conference? The Mainstream Team is here to help.