As an event planner, you've got a lot on your plate. Often, our pre-event checklists feel more like a CVS receipt (you know, the reaaaaally long ones) than a to-do list. Identifying vendors. Managing registration. Staffing the event. Coordinating speakers. Booking travel. Setting up technology. 
But where does branding fit in when it comes to event planning? Amidst all of the other details you're responsible for overseeing, how important is visual communication — really? 
Turns out, branding is one of the most crucial components of event planning. We recently caught up with a few leading marketing and event experts to talk about why visual communication is so important when it comes to connecting with your audience, driving engagement, and exceeding your event goals—and how event planners can invest in a  strong visual brand, no matter how limited their resources. 
Here's what they had to say. 
Meet the speakers

What is visual communication?
Branding can mean a lot of different things in a lot of different contexts, so let's start with the basics. Mainstream's Managing Director, Nick Bacon, provided us with a simple visual communication definition to guide our conversation when it comes to events specifically. He explained that anytime you attend an event, you experience it in three layers: 
Content:
At the base is the content layer. This is the basic event content that we're asking our audience to engage with— like a video feed, a speaker on stage, or a powerpoint presentation.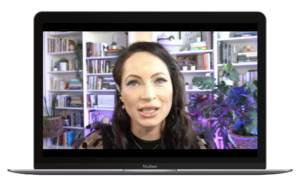 Context:
This layer informs the audience and provides context about what they're seeing. We often do this graphically—like an on-screen text bar with the speaker's name and title, a slide announcing a 15-minute coffee break, or an event program that gives you an overview of the day's agenda.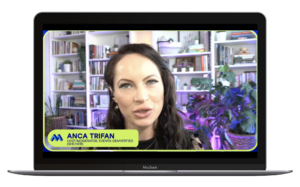 Container:
At the top, we have the container layer. This is the home for your event, or how and where your audience engages with your content. For example, if you're watching a Facebook or Instagram live, you can react and comment on the content you're viewing. On other platforms, you might be able to click on links for more information. Or you might interact with the event's accessibility features, turning on closed captioning or choosing an alternative language.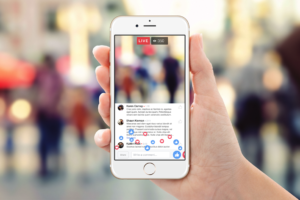 These three layers help us define our visual communication for an event. They help us tell a cohesive, on-brand story that represents our company, shares our main messages, and drives audience understanding and engagement. 
"Not all branding strategies for visual communication are created equal. Branding is more comprehensive than a basic image or a predefined set of hex color codes on the screen, words and fonts…branding captivates, informs, and leaves viewers wanting more."
How to apply branding and marketing to events
Now that we have a common understanding of what visual communication is, how do we tie it to the events we're producing? Hannah Grisham, Marketing Manager, Employer Brand at Amazon, shared that there are three key marketing principles that can be applied to events. Like any good brand or marketing campaign, event planners should consider the following: 
Audience: Who will attend your event? Are they internal (like employees or board members) or external (like customers or prospects)? What are they hoping to gain from this event? What needs do they have, and how can you best support them  before, during and after the event?
Desired outcome: Set goals. What are you hoping to accomplish with your event? If your attendees are internal, are you looking to engage and rally employees around a common mission? If your attendees are external, are you hoping they'll convert into customers or take some sort of action? If you can, make your goals quantitative so that they're more meaningful and easy to measure when your event is over. 
Desired feeling: What do you want your audience to feel? How will you make your event memorable? What do you want people to walk away knowing? This is what sets your event apart from others, and keeps your content top-of-mind for years to come. 
These three principles will help you define a brand and visual identity for your event, and they should be at the foundation of every asset you create—from advertising to on-site signage to follow-up emails after your event is over. 

How much does event branding cost?
Money, money, money…it's always on our minds as event planners. How much budget should a company allocate for visual communications at their event? As our speakers explained, there's really no one right answer. 
There are many factors at play when it comes to deciding how much to spend on an event, like: 
What's your event budget overall? 

How many events do you produce a year? 

How many people will be attending?

Who's the audience? 
The key is to find solutions that fit within the budget you have available. There are so many different options when it comes to event tools, technologies and vendors, ranging from budget-friendly options to top-of-the-line white glove service. So do some research and find partners that fit your own personal budget and goals, no matter what they may be.  
"We have smaller internal events on a quarterly basis that don't require as much budget, and then there are larger events that are more focused on our overarching marketing goals. So we'll spend more money on those." 

— Hannah Grisham, Marketing Manager, Employer Brand, Amazon
How to make visual communication a priority when you have limited resources
Speaking of money, we don't always prioritize visual communication when it comes to event budgets. Especially at smaller organizations or non-profits, branding doesn't always make it onto the ledger—which means it sometimes falls lower on the priority list.
But visual communication is arguably even more important for smaller organizations who are looking to expand their customer base, or non-profits who have big fundraising goals. Event branding helps us build stronger connections with our audiences, and create memorable experiences that will drive them towards action. So visual communication can't be ignored when it comes to small business and non-profit events. 
The good news is that Mainstream works with many companies who have limited resources, and there are lots of low-cost ways to accomplish a visually strong event. Beth Norber, Director of Accounts, noted that the work often starts with reminding smaller organizations that they already have a brand (even if they don't know it yet!). It's not just the tangible assets like logos or graphics—it's the intangibles that help you define how your brand is perceived, like donor testimonials, volunteers that can help you communicate your mission, or a thank you note from the CEO to all event attendees. It's just a matter of defining what those assets are and maximizing the content and resources that are already available to you. 
Your company values are also an important part of your brand. And there are lots of ways to communicate your values visually, without spending much money: 
"Accessibility was a huge priority for one of our recent clients. So during their event, they made sure closed captioning and an ASL translator were highly visible. It's a great example of those intangible ways you can communicate your brand."

— Beth Norber, Director of Accounts, Mainstream
Another free way to uphold your event branding? Consistency. Even if you don't have a huge budget to spend on an especially flashy event or advertising, you do have the power to be consistent in all of your messaging from start to finish. From your save the dates to the survey you send post-event, your tone and message should be cohesive throughout all of the assets you create.
"If we're working with a Fortune 500 brand, it's important that the event follows brand guidelines. But even for smaller organizations that don't have less defined rules, it's still important that we're consistent. Sometimes that's picking up where the organization left off on their own branding, and sometimes it's starting from scratch to make sure the visuals throughout the entire event are cohesive."

—  Eric Boyer, Principal and Managing Director, Mad City
How can visual communications help us combat virtual event fatigue? 
Ahhh, Zoom fatigue. A popular pandemic buzzword — and if you ask our speakers, a word that we hope we never have to hear again. 
It's not that Zoom fatigue isn't real. It very much is, thanks to too much time spent on boring calls and unengaging virtual events. But streaming is here to stay, and there's good reason for it. 
"If you're not planning on doing a virtual component of your event because you're worried about Zoom fatigue, you're missing the point. The fact is, virtual events have been around for a long time — and they open up accessibility for your event."

— Nick Bacon, Managing Director, Mainstream
Virtual events exist to bring more people into your community, whether they don't like being in a room full of strangers, or need to be home at 5:00 to be with their families, or can't afford to travel to be there in person. So in this day and age, if you're not including virtual components to your events, you're not only missing out on potential new audience members—you're just plain exclusionary. 
The good news? Just because something is on Zoom doesn't mean it has to be fatiguing. That's where visual communications come in — to make your event not boring and to appeal to audiences who otherwise wouldn't have been able to engage with your event. 
Here's an example: 
Before Amazon, Grisham worked at Marriott, where she collaborated with Mainstream to take their annual chef and mixologist competition to the next level. Their goals:
 Engage thousands of Marriott employees around the world who couldn't be there in person, giving them a chance to cheer on competitors from their own Marriott locations

Appeal to external talent, attracting top chefs and mixologists to become Marriott employees
They wanted people to leave feeling engaged and inspired, so they knew they needed a creative and innovative visual brand. But they also knew that attention span was a factor, and they only had a short window to capture people and keep them engaged. So they created captivating video clips that were short, to-the-point, and unusual:
"We pre-recorded clips of our competitors. Instead of introducing them with their name and where they were from, we visually represented that on the screen so that we could spend more time telling their stories on-screen. We had them do interesting tricks with their knives or cocktail shakers, so it was a more visual and compelling way to represent the event content."

—  Hannah Grisham, Marketing Manager, Employer Brand at Amazon
Unexpected visual communication examples from recent events
No need to start from scratch! If you're stumped on how to make your event stand out, here are a few unexpected and memorable visual communication examples that our speakers shared during our conversation. Let's get those creative juices flowing…
A C-suite skydive: Hannah Grisham shared an example from a recent Amazon event she attended that had us pining for adventure. To introduce a company leader before he spoke, they played a pre-recorded video that showed him jumping out of an airplane to come and greet the audience. He arrived on stage in a parachute, and the theme was carried throughout the rest of the event, driving high energy and excitement amongst event attendees. 
A low-budget dance party: Nick Bacon shared an early-pandemic example from Creative Mornings, a professional organization that offers speaker series and community building for local creatives. When the pandemic hit, the organization's meet-ups went virtual. Because community was such an important component of the group, they didn't want the whole event to be an audience watching a speaker the whole time without  any interaction. So every 15 minutes, they'd turn on a Spotify playlist and ask everyone to keep their cameras on and dance with each other. It was a great moment of levity during a time when everyone was uncertain about the future and worried about their health, and a good reminder that strong connections can be low-production and low-budget.
A Minecraft moment: Eric Boyer shared a favorite memory from a Minecraft event his friend hosts on Twitch. The game includes virtual currency, so audience members can spend bits to influence what's happening in the game  and have a say in the outcome. Even from afar, Twitch users can build community with each other when everyone is working together virtually  towards a common goal.
What's the next big thing for visual communication and event branding?
As we look to the future, what predictions do our speakers have for the future of event branding? One common theme: it's time to up our game when it comes to virtual events. 
Of course, we had virtual events before the pandemic — but they're coming back in a big way, and we're seeing event planners pay a lot more attention to the details, making them more cohesive, engaging, and professional than ever before.
And as we're re-entering the world, we're recognizing a need for hybrid events that include an in-person and virtual component. We need to make sure we're providing consistent experiences for all audience members no matter how they're attending. 
Eric Boyer reminded us that there are lots of in-person event best practices that can be applied in a virtual setting, too:
"Facetime is very valuable. Being able to stand up and stretch and go get a drink and meet somebody new in the same room is very different. It's less intentional, it's more organic [than virtual]. And there are platforms that do an alright job of having virtual tables and connecting strangers, but the next phase of innovation will be including those that are outside the doors of your in-person event."  

— Eric Boyer, Principal and Managing Director, Mad City
We've all attended an event virtually where it feels like everyone in person is having way more fun than us. No one wants to be the odd man out, and it's time for us to create equitable event  experiences for all of our attendees. 
Watch the full event:
Event branding doesn't have to be a chore. Curious how Mainstream can help you produce more on-brand, professional events? Get a consultation to explore the possibilities.