The drive and desire to create exceptional content is only as strong as the resources that can be put into it. In Chicago, a city with a great variety of companies ready to help clients with this visual display, five video production studios have shown themselves to have exceptional capabilities and infrastructure. Every studio listed below has all the tools to meet your needs, while providing their own additional advantages and unique qualities.
Resolution Studios is a premier video production studio space catering to the needs of organizations of all sizes. They offer full-service production from script to screen, including sound design and graphics. All their processes happen under one roof with seamless collaboration between departments.
Located just two miles west of downtown Chicago, Resolution Studios' 80,000 sq. ft. facility is designed for maximum performance. They also provide an array of amenities, including three stages, eight special use spaces, and a full inventory of production equipment. Their services go far beyond just filming to include everything from concept design and storyboarding pre-production work, to post-production audio, editing, and graphics.
Resolution Studios is dedicated to creating impactful, high-quality projects that tell stories your clients and customers need to hear. With their skilled team of producers, editors, graphics artists, and sound designers, they can provide all the services you need to bring your concept to life.
STUDIO SAGE
For collaboration of broadcast and event expertise
Run by creative and production experts, this full-service, state-of-the-art broadcast and green screen studio is your solution in an age when content is queen. Not only does Studio Sage include equipment for all your content capture and broadcasting needs, it also offers an array of facilities, including a broadcast primary control room, green screen cyclorama, webcasting stations, editing bays, and sound booth.
Studio Sage provides the wisdom, tools and experience to help plan, produce and present customer messages directly to any audience. The studio offers services ranging from video and voice recording, to live streaming and platform management. Powered by top-of-the-line streaming technology run by broadcast veterans and backed by leaders in experiential marketing, Studio Sage is changing the way people engage with virtual and hybrid events. Located in the heart of Chicago, Studio Sage is a division of EA Collective, a group of connection experts who create brand identities (Storyhorse), content (Studio Sage) and experiences (Agency EA).
"Crucial to Studio Sage's offerings is the collaboration of broadcast and event expertise. Our leadership team includes broadcast industry veterans with decades of television experience, as well as senior production leads from our agency division who have led some of our industry's most complex global broadcast events. This provides strategic value to our clients who are looking for innovative solutions to make the best decisions when pivoting from virtual to in-person and back, and gives them peace of mind when navigating the complexities of today's marketing programs."

– Jeff Sasz, Vice President, Technical Operations & Strategy
BIG SHOULDERS
For customer-focused full-service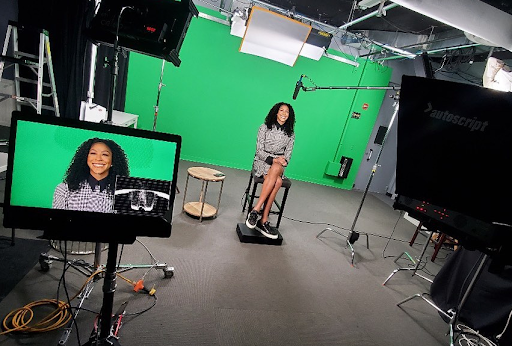 Big Shoulders is one of the country's leading providers of video production services, catering to national television networks, TV programs, agencies and corporations. As Chicago's largest independent production facility, Big Shoulders has provided live broadcast studios for international and domestic clientele for more than two decades. Their talented team of professionals are dedicated to personal service.
Big Shoulders combines their state-of-the-art facility and cutting edge equipment with a dedicated work ethic to create engaging and impactful videos for their satisfied clients. Big Shoulders also provides a can-do attitude essential to ongoing video production. Services are orchestrated by a creative team, account executives, coordinators and support staff so that you always have a team to fulfill all your needs.
Located in the heart of Chicago's Magnificent Mile, Big Shoulders features extensive connectivity, including VYVX, The Switch, Encompass, LTN, and 1,000 MB connection (not 100 MB, but a full GB per second internet speed, up and down). Besides SMTs, live shots, webinars, webcasting, and music recordings, these studios can be utilized for non-live traditional studio production. For example: table top, multiple camera (up to 5+ cameras), ISO record, and record mix cut.
All this technical information leaving you a little confused? Don't worry! With the customer-focused, full-service approach of Big Shoulders, you will always get the right services your project needs.
MAINSTAGE CHICAGO
For pixel-perfect virtual and hybrid events
Mainstage Chicago specializes in the end-to-end production of broadcast-quality webcasts, helping you build an engaging event that resonates with your audience. From festivals to press conferences and everything in between, Mainstage Chicago can help you share your event with a global audience. Their live streaming services include everything you need to have a successful event. This includes web development, event production, and providing a friendly, experienced crew to produce your broadcast.
Conveniently located in Chicago's West Loop, Mainstage Chicago's video production studio pairs the infinite scalability of cloud-based production with the cinematic flexibility of an immersive cyclorama studio. Featuring a 24′ x 24′ soundstage with a seamless white cyclorama and grid-mounted RGB LED lighting, workstations can be controlled remotely or onsite. You can even integrate your at-home studio with their broadcast facility in real-time through dual redundant fiber lines bonded with 4G LTE backup modems, so the Internet never goes down. Mainstage Chicago is perfectly situated to deliver pixel-perfect virtual and hybrid events.
"Clients love working in our space because it offers a convenient and comfortable place for their virtual events to take place. It's the perfect size for meetings and small events – and with a full Kitchen and Client Lounge, it offers a comfy space for Talent as well. Crews especially love our built in Cyc wall and RGB lights, which are included in all rentals. Mainstage prides itself on being super flexible and scalable for a variety of events. It's truly a unique spot in Chicago!"

– Katelyn Douglass, Studio Manager
YEAR 2139
For pictures and natural light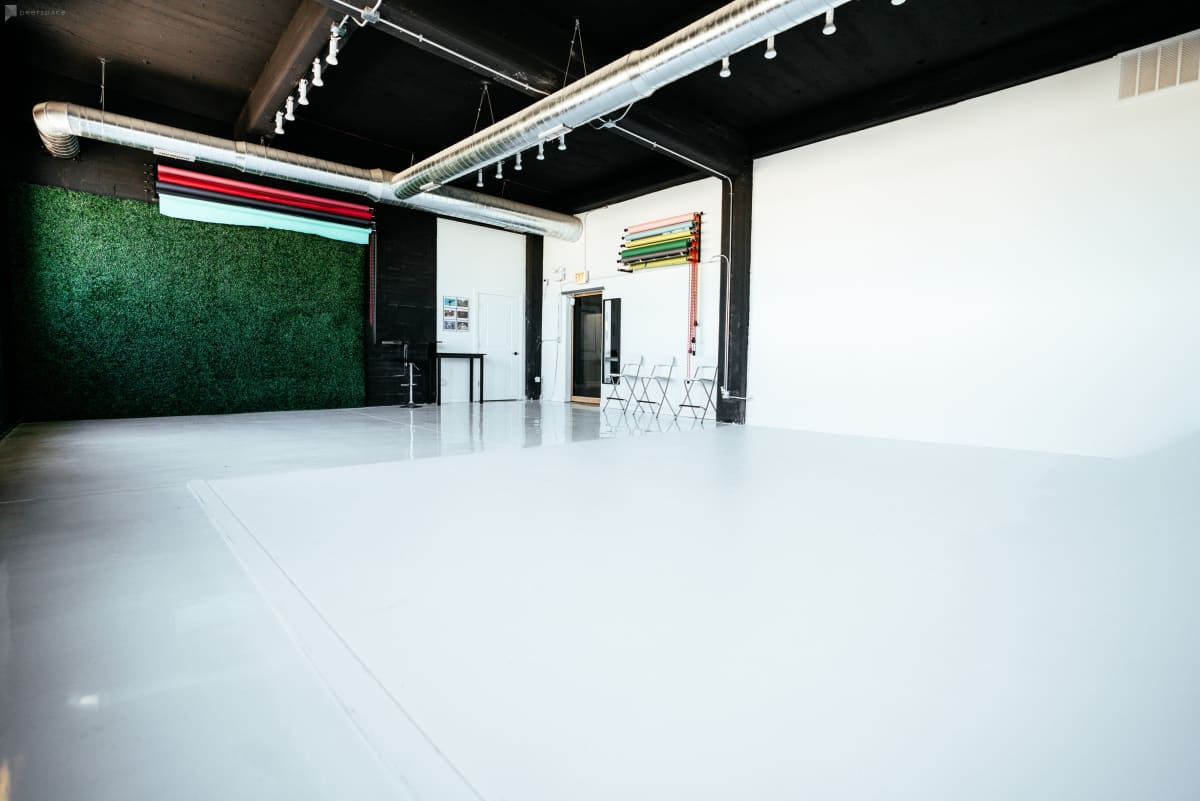 Looking for jaw-dropping images to capture the attention of your audience? Look no further than YEAR 2139 for your photography and videography needs. Located on Chicago's Southside, multi-talented photographer and videographer Shaun Michael tells stories through his images and offers a flexible studio space for all sorts of projects.
Beyond the great natural light, this studio boasts tremendous versatility. It is a flexible film and photography studio where you can film or take photos with Aputure's film-friendly RGBWW lights. YEAR 2139 offers a beautiful cyc wall with optional natural light or they have over eight color backdrops to choose from.
" I've done work for companies such Akira, Mielle Organics, and J-Sculpt. I've done shoots with celebrities such as Bow Wow, Jacob Latimore, Woody McClain, & Tink. I've also worked on movie campaigns & events."

– Shaun Michael, Owner
There is no idea that is too big or small for the right production studio to bring to life. Whether looking to activate smaller, local audiences, or aiming to reach people on a global scale, Chicago has plenty of experienced vendors to help, regardless of what size or scope your next project may be.
Whether you're in the Windy City or another corner of the country, Mainstream Media is here to help. Contact us today if you're interested in utilizing Mainstage Chicago or any of our other production services.