The past year of pandemic issues forced organizations to get creative with supporter engagement. From distance learning, and work meetings, to weddings, and social gatherings, more and more organizations are turning to virtual events. Non-profits, looking to engage with their supporters and raise funds for noble causes, are no exception. Virtual fundraising can have an impact and raise significant funds without an in-person gathering of supporters.  With the right tools, we are helping our clients continue to engage with their supporters and thrive.
1) An Experienced Event Management Partner
With so many moving pieces and a dizzying array of platforms for communication, virtual events can be an intimidating undertaking. Non-profits looking to maintain their efficacy and grow their mission can rely on established and results-driven organizations like Mainstream Media. Mainstream Media simplifies the process of coordinating these types of events and brings the best options to light – creating dazzling events that appeal to donors.
2) Impeccable Organization
Produced by Civics Unplugged, Commence 2030 was a first-of-its-kind celebration of Gen Z "civic superheroes."  These individuals go above and beyond for their communities and "commence" a brighter future for our country's democracy. The event featured speeches from world leaders: Senator Cory Booker, Andrew Yang (entrepreneur and founder of Move Humanity Forward), and Dwayne Johnson (Hollywood superstar) to name a few.  In addition, Audrey Tang (the Digital Minister of Taiwan), participated. Kathy Roth-Douquet (the founder of Blue Star Families, the largest military families network) also spoke.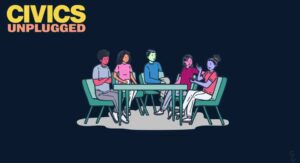 At the last minute, the event had to pivot from an in-person affair to a virtual gathering. But Commence 2030 did not diminish the lofty goals set for their event just because they went virtual. With impressive celebrities and an in-house events team keeping it all organized, everything came together and went smoothly.
Staying organized with Mainstream Media and using the Tiltify platform, Commence 2030 received dozens of donations throughout the event. With Tiltify's built-in graphics overlays, the audience stays informed with up-to-the-second donation updates.
"From the ideation phase to the virtual production phase, the team was such a pleasure to work with and validated that virtual events need professional tech production. Overall, this was a huge success, and I would highly recommend using this team for future events."
– Alexis Fritchy, Event Coordinator
3) Engaging Graphics and Lively Visuals
In 2020, the Project Glimmer hosted their 10 Year Anniversary show.  They honored four-time Grammy nominee Jewel and co-host of The View Sunny Hostin with their Star Awards.
The Project Glimmer team had impeccable standards when it came to graphics. Keeping the audience engaged and entertained was a very high priority. Mainstream Media created dozens of dynamic graphic elements: text-to-call tickers, a live donor scroll, and a donation thermometer kept attendees engaged throughout. And some special "visual awesomeness" was a great addition for when they met their fundraising goal. Project Glimmer's goal was to raise $100,000 during the event; they ended up exceeding it, raising over $125,000!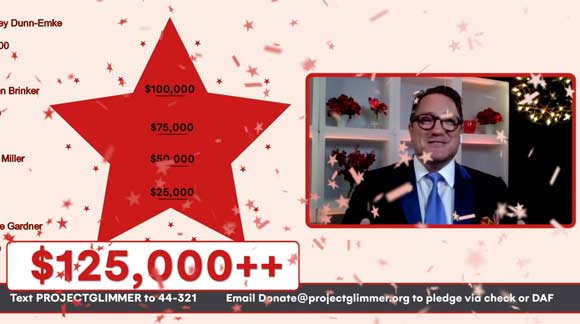 "Working with Mainstream Media has always been an absolutely easy process. They instantly tuned into the concept & execution of our clients Virtual needs and partnered with us seamlessly.
– Charlie Kennedy, Show Up Events!
4) Integrating Pre-Event and Post-Event Extras
For the Sacred Heart L'esprit de Sacre Coeur, Mainstream Media produced a virtual live stream auction on the GiveSmart platform. The client managed pre-event communications, live and silent auction bidding, and embedded a live streamed video into the platform.  Utilizing this "one stop shop" for donors and viewers simplified the process and created a cohesive experience for attendees.
Mainstream Media coordinated a full day of pre-recording at the school with various members of the staff and committee. The videos included remarks from the Head of School, and a prayer given by a sister of the congregation. There was additionally a reflective message from a parent, and committee.  Additional bonus extras were provided to VIP attendees, such as a cocktail recipe and demonstration video by a mixologist. Furthermore, an integrated virtual photobooth encouraged attendees to engage with the event and share it across their social channels. Families enjoyed taking fun pictures, and the resulting images provide useful marketing opportunities.  To top it all off, attendees took home a virtual "SWAG Kit" to remember the event.  As a result of all these efforts, the event exceeded the client's goal and raised over $520,000.
The Valerie Fund benefit is typically hosted in a luxury New York City ballroom, with black-tie fashion and exquisite floral centerpieces. Major donors attend The Taste of Giving annual event and all funds raised go towards assisting children fighting cancer. Mainstream Media worked with The Valerie Fund's webhosting team to stream right on their website.  With an integrated donation button and chat feature, viewers could comment about live donations, and react to videos.  Donors were even able to give well wishes to Valerie Fund kids.
The live stream event was supported with a graphics package that paid tribute to the beauty of the live event. Mainstream also incorporated glamorous pictures from past events and produced graphics with the feel of an in-person event. A celebrity auctioneer and a live auction bidding organization to host a live auction ensure success of meeting fundraising goals.  Overall, The Valerie Fund exceeded their goal and raised over $1,000,000 at this event.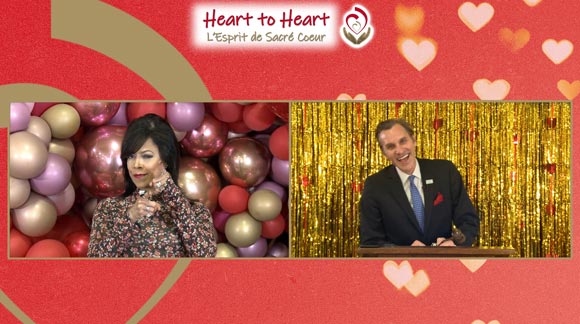 "I chose Mainstream to do my most important NYC fundraiser when I had take it virtual. Lauren, my producer, guided me through with all of the right questions.  She listened to my ideas and was a wonderful collaborator who validated my concerns. We raised over a million dollars to help the kids with cancer and blood disorders. Our guests are still talking about how great it was, despite not being in the room together."
– Lori Abrams, Director of Development
During these uncertain times, it's more important than ever for organizations to keep their supporters involved and informed. You should hire the right production partner and use engaging graphics. So, if you provide a seamless guest experience , virtual events can enjoy the same benefits of in-person events. Clearly from the client testimonials above, Mainstream Media helps clients succeed in meeting fundraising goals and audience engagement. Online fundraising events don't have to be intimidating, and don't have to be a struggle. Hiring an expert like Mainstream Media makes it easy to clarify messaging and engage with supporters to achieve results.