What's in Our Travel Kit?
 Having produced hundreds of live streams, the Mainstream team knows what it takes to create a great show. Recently, we have been traveling all over the country for these shows, which has presented a new challenge: how do you ensure a successful show if your office is hundreds of miles away?
With that thought, here is a list of gear we like to bring in case we find ourselves in a pinch.
An Extra Laptop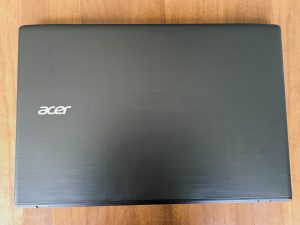 An extra laptop can be useful for many things on set such as making last minute graphics, monitoring the stream, or even acting as a presentation computer if necessary. We use an Acer Aspire F laptop which is perfect for all the above as well as any administrative tasks you may need to take care of while traveling.
Modern consumer laptops are trending towards fewer ports, which can be a risk factor. When shopping for the right laptop for your gig, make sure it won't become useless when you inevitably lose the one cable or hub required to connect everything to it.
A Network Switch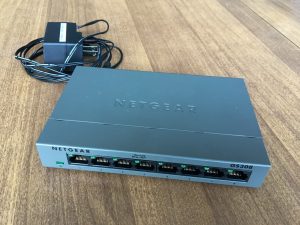 A reliable network switch is important if you're traveling to a location with no WiFi available, but you need a second computer to monitor the stream. You don't necessarily need a rack-mounted switch for a mobile flypack: even a small one will suffice.
That said, we do like switches with manual DHCP settings. PoE, or Power over Ethernet, can also be beneficial if your gig relies on PTZ cameras. And if you're using data-intensive technology like NDI, then you'll need a 1- or even 10-gig switch.
Decimator
A Decimator can fix nearly any messy signal flow situation. It can convert a video signal to one meet broadcast specifications (we're normally looking for 1080i60, which not all devices send), and can convert from HDMI to SDI and vice versa. This device also has a test pattern generator that comes in handy when troubleshooting projection gear or capture cards. We have the MD-Cross V2 Miniature HDMI/SDI Cross Converter model.
A Microphone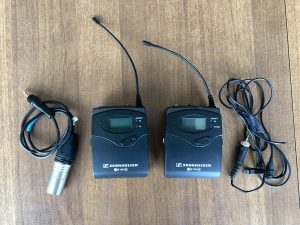 We usually pack a wireless lavalier in case of an audio emergency. This is especially important if your crew is responsible for capturing audio, rather than an in-house or separate AV vendor. We use the Sennheiser ew 100 G3 wireless lavalier kit. The receiver has a shoe mount that can be mounted on your camera for a simple set up.
Bonus: in a pinch, you can use a wireless lav as a de facto IFB. Just put the mic/transmitter on your director, and feed the receiver audio into an earpiece for your talent. Et voila!
Audio Converters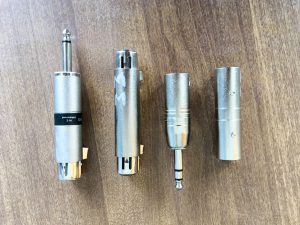 Every audio configuration is different, so be prepared to convert your signal. XLR, 1/4″, 1/8″, RCA – pack them all.
Especially important is a ¼" to XLR converter. When getting an audio feed from an in-house person or an AV vendor, they occasionally only have ¼" outs and no XLR outs. These are small, so pack as many different converters as you may need.
Barrels
We mostly use SDI and HDMI cable. If we need a little extra length for our cable run, we can grab a ten foot SDI or HDMI plus one of these barrels to give us the extra length needed to reach our streaming computer.
Extra Cable
In an unfamiliar city, it can be difficult finding extra cable. It's always good to have extra cable with you, especially if you were unable to visit the site or get a floor plan before the event. I'd recommend bringing a spare of anything you can't get at a big box store, especially high-quality SDI.
Power and Storage
It's the small yet most important things that are often forgotten in the rush of travel. Always double check that you have extra camera and (if needed) microphone batteries, SD cards, SxS cards, and hard drives. 
This gear has helped us out of many tight spots when finding a fix for technical difficulties. Even if this gear is not needed, the space lost is made up for the peace of mind it gives when getting on the plane.