A virtual event is a pre-produced show that simulates a live streamed broadcast. By scheduling your content to stream at a certain time, you can activate a global audience, resulting in increased awareness around your brand and event. Because the presentations are pre-recorded, you can accommodate world-renowned subject matter experts with very busy schedules, resulting in a very high-impact show. While streaming to Facebook Live or other platforms is a great way to engage a global audience with real-time content, hosting a virtual event gives you the flexibility of time and place.
Recently, we worked with the phenomenal team at SmashFly Technologies to stream their virtual event, Transform Virtual ™. Throughout this blog, Shannon Pierce shares her experience on how to produce a successful virtual event.
Getting Started
The first step in hosting a successful virtual event is to to determine its theme and content. For SmashFly, they wanted to leverage the success of a recent in-person event in an effort to continue to engage their audience.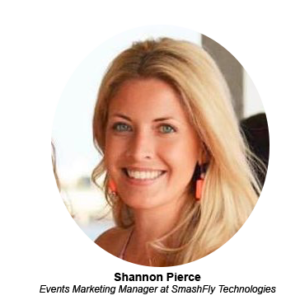 We hosted a super successful in-person conference – SmashFly Transform™ – and it created so much buzz we knew we had to do it again. The only problem was cost. In-person events can be incredibly expensive. We wanted to keep the momentum of Transform going and continue growing this community, but can we get everyone together virtually and still have a great event? Turns out you can!
Transform Virtual™ was branded the same, the virtual experience was just like our livestream experience from the Transform event and the content was presented by practitioners so it's all peer-to-peer learning (same concept that was so well received at our in-person event).
Choose Your Format
Just as with any event, your content should include a mixture of different presentation formats. This can include keynote presentations, breakout sessions, and panel discussions. You'll also need to determine whether your event will be paid or unpaid.
Don't feel limited to individual speakers. Panel discussions are a great way to vary your virtual event's programming schedule. All you need to do is find a group of experts willing to discuss a certain topic and find a time that works for everyone to hop on their laptop.
Paid or unpaid? We find that the more barriers you place between the content and the audience, the less viewers you will obtain. Some content needs to be paid, such as a professional development virtual event where participants are gaining continuing education credits. If you decide to go with unpaid, think of it as an opportunity to collect valuable information from your target audience. Virtual events that do not charge money will see higher viewership than paid events.
Producing Your Virtual Event
Now that you have your format lined up for your virtual event, it's time to start recording. Our production team at Mainstream Media always schedules a "dry run" video call with the speaker before their actual recording. This ensures they are comfortable with the recording software as well as make sure they have adequate internet speeds and proper lighting. It will also give you a chance to control the background of the speaker to avoid distracting images or bad patterns.
Shannon offers this helpful advice:
Honestly, the hardest part about planning a virtual event is scheduling your speakers, internal stakeholders and your production team for all the calls that it takes to pull the event together.
Our goal was to have 3 calls with each speaker: first the kick-off call to introduce the event and discuss a topic, next a dry run to walk through the entire presentation and make content suggestions, and then the final session call as if they were presenting live.
Definitely set expectations with your internal stakeholders that they will need to be flexible to accommodate your speaker's schedules during the weeks leading up to the event.
Make sure there is no mention of the date or time in the recording. This could range from the speaker mentioning a current event or even a clock in the background. For the recording software, we've found that the basic camera applications, e.g. Camera on Windows 10 and PhotoBooth on Mac, are the easiest to use. (Windows 7 does not have a camera application. In that case, you can use VLC which has a built-in screen recorder.)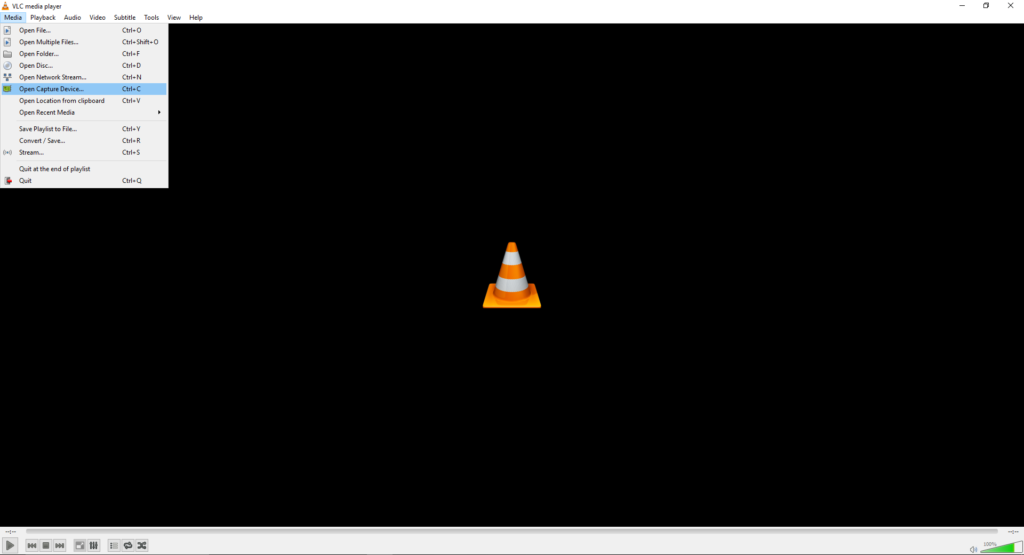 Note: You will not be able to view yourself while recording, but will know you are recording by seeing the timecode advance at the bottom of the VLC application.
Many speakers use PowerPoint to drive their presentations. To ensure your timing is accurate, we've found that a simple screen recording on the laptop running the deck does the trick. You will then be able to insert the slides into the recording after the fact based on the timing of that recording.
For a multi-presenter panel discussion, we create a YouTube Live event and control the broadcast using Google Hangouts. When configured correctly, Hangouts will automatically switch between active presenters (just make sure your non-active speakers have their mics muted). Afterwards, you can download the broadcast through YouTube's Video Manager.
Now that you have all the recordings of the speakers and panelists, the final step is to record your host. You should do this last, so the host knows the content they are introducing. Try to make the intros simple and to the point. Remember, your audience is there to learn!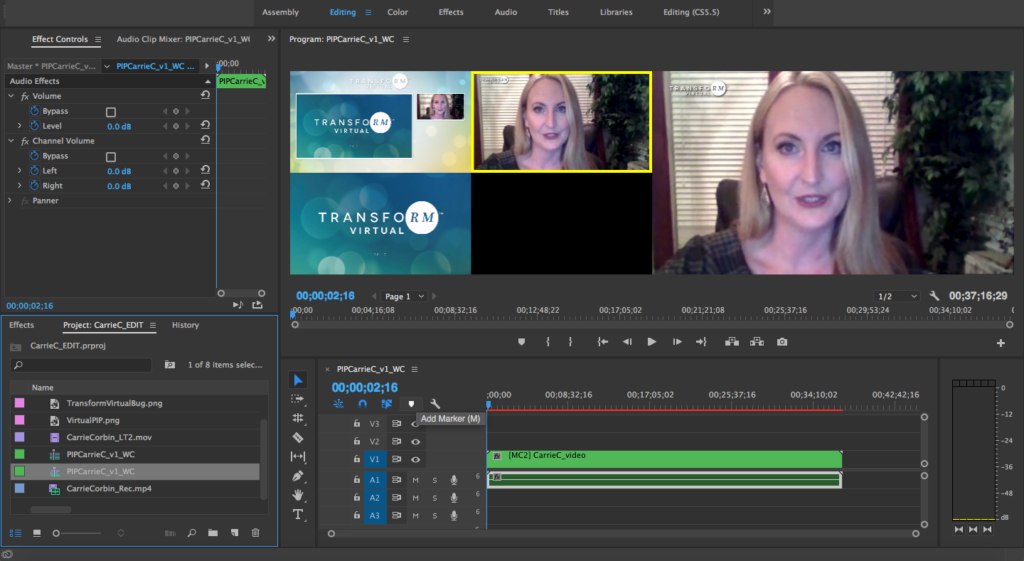 Market Your Content
Market your virtual event as you would any other live event. That includes scheduling promotional email blasts and social media posts. Encourage your target audience to register and tune in. Here's what SmashFly did:
In order to get the word out about Transform Virtual™ we used email marketing, mobilized our internal sales reps and customer success team to send personal invites to their accounts, social media including Twitter and announcements to our Transform Community Facebook Group, retargeting ads and partner marketing. Our content team was constantly writing tweets and sending them out internally and to our speakers to activate as many people as we could on social and make is super easy for them to spread the word.
One of the biggest differences between an in-person event and a virtual event is that the bulk of your registrations for a virtual event come the week prior to your go-live date. We heavily exceeded our registration goals, but over 50% registered in the last 4-5 days (including the day of!). It's always a little stressful waiting for your pre-promotion campaigns to convert into registrants.
Run Your Show
Congratulations! You've produced some exciting content with world-renowned subject matter experts. Now all you need to do is load up your live streaming software with the edited video packages and play them back on the platform of your choice. Be sure to monitor your social media outlets as the show goes along and engage with your audience in real time.
Even though your event is a simulation of a live experience, you should engage with your audience throughout the broadcast. Many events utilize hashtags to encourage collective community conversation. Understand where your audience is and how they'll be viewing the content to maximize their event experience.
Analyze, Analyze, Analyze!
Now that your event is over, it's time to look at the data and see how it went. For SmashFly, they wanted to keep their audience watching the content as long as possible. Their average viewing time was about an hour, nearly twice the industry standard. Other points of data may include:
Email open rate

Total ticket sales (if paid), total registrations (if unpaid)

Conversion rate

Total audience size

Average view time per audience member

Engagement during broadcast (tweets, shares, comments, etc.)
With data in hand, you can understand how to make your next event even more successful.
Final Thoughts
With proper planning, SmashFly knocked their first virtual event out of the park. SmashFly leaves us with this wisdom:
Besides the obvious need to deliver great content and work with your speakers very closely on their presentation development, make sure you have an awesome production partner if you plan to host a virtual event. You content could be awesome, but your production partner can help make the viewing experience more dynamic and interesting.
If you have any further questions or would like Mainstream Media to produce your virtual event, feel free to get in contact with us! We'd love to share our expertise with you or even handle your entire virtual event from start to finish.